BARKING FC HISTORY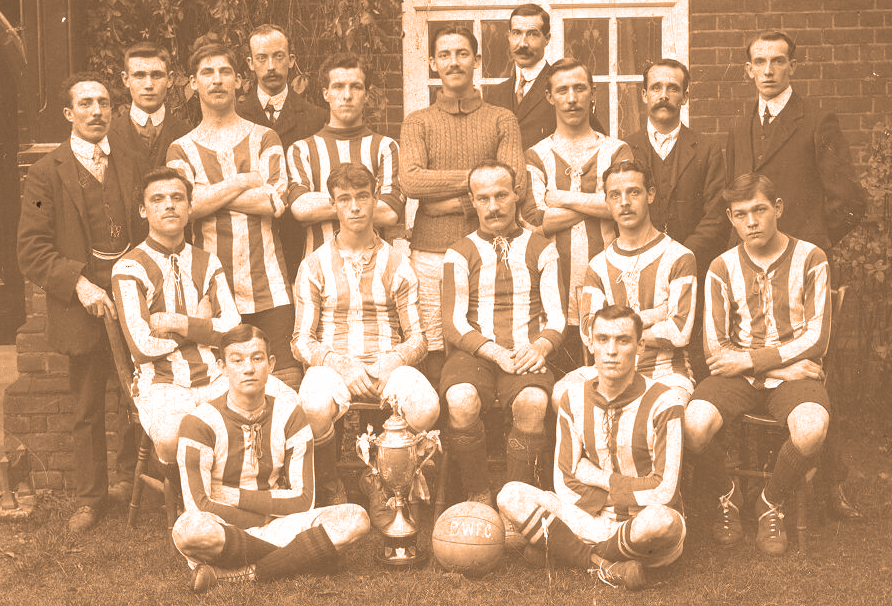 Barking Woodville pictured post 1895
The ancient abbey town and fishing port of Barking has been represented by a football team since at least 1880 and we are the longest established football club and possibly sports club in the borough of Barking and Dagenham. We have played in the FA Cup since 1895/96!
Barking's colours of Royal Blue are said to originate from the Short Blue fishing fleet which plied the oceans from Barking Creek for many years and supplied London with fresh fish.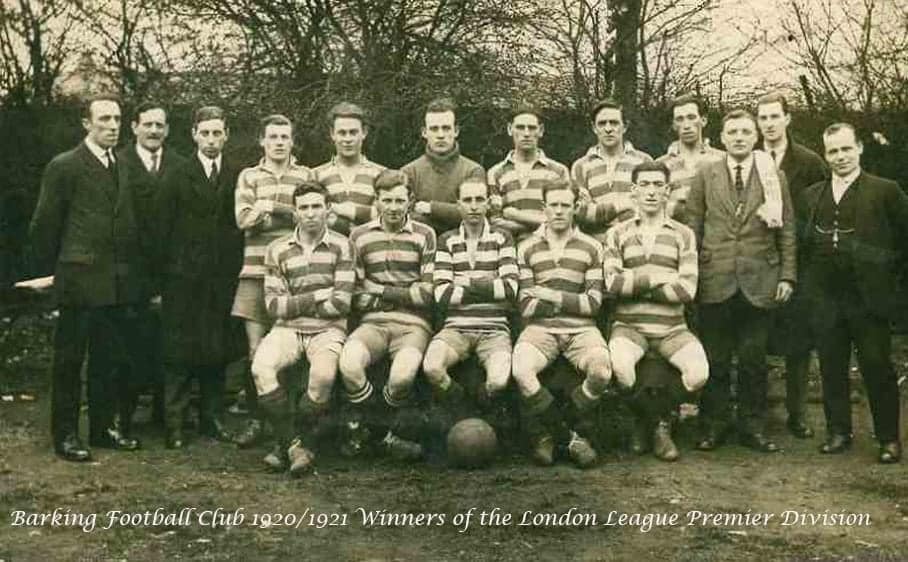 Included in this line up is Jack Leslie, Frank Richardson and Alf Rowe who were transferred to Plymouth Argyle at a cost of ten pounds each.
Barking Institute's name changed to Barking in 1902 and in 1908 Barking Ferndale became Barking Reserves. The name was changed again to Barking Town from 1919 to 1932, reverting to Barking until changing to Barking and East Ham United in 2001/02 for five seasons.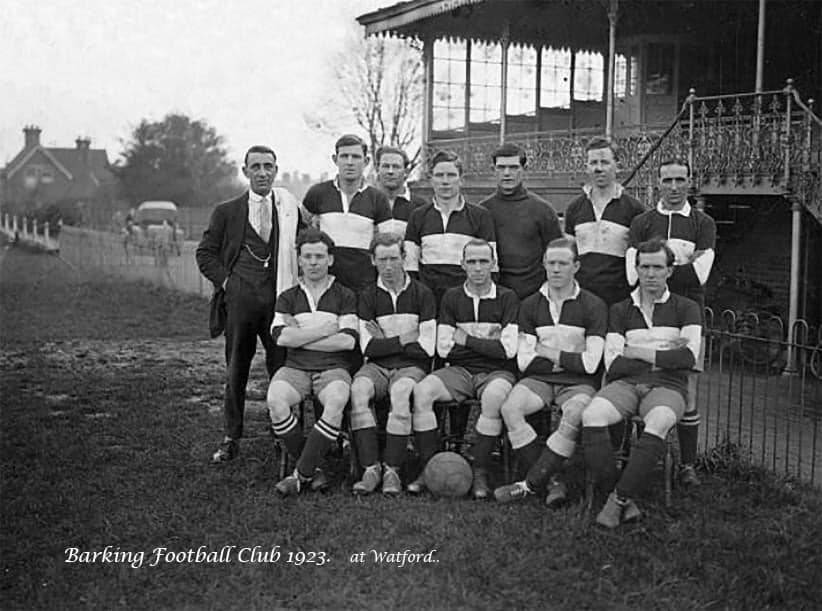 The club developed the Vicarage Field to Football League standard. Barking had early experience of floodlit football, playing in the Borough Charter celebrations in Barking Park on October 12th 1931, our opponents were Ilford whom we beat 3-1, despite them being in a higher league. Barking were the first club to play an Isthmian League match under its own lights. In 1973 Barking were required to leave the Vicarage Field by the council and were leased the present ground in Mayesbrook Park.
During the Second World War, matches in the South Essex Combination were played at the Merry Fiddlers Ground, Dagenham as the Vicarage Field was converted to an anti-aircraft site and included a first aid post. All matches in 1945/46 had to be played away.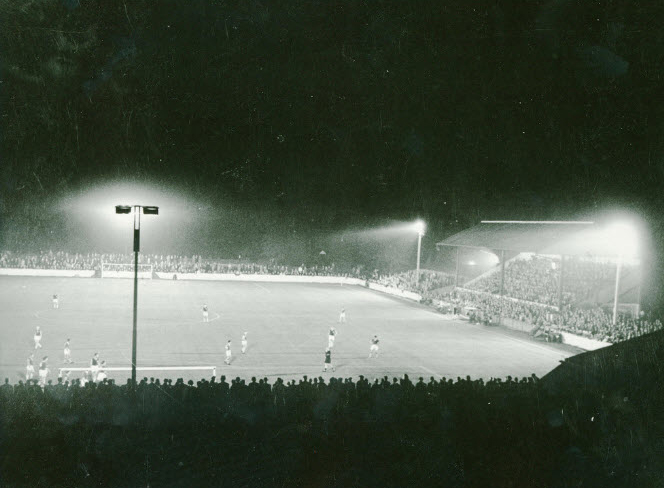 Thursday September 18th 1958 saw in the inauguration of the floodlights as Barking lost 2-1 to a West Ham United side which included Bobby Moore. photo credit Valence House Archives.
Barking were invited to join the Isthmian League in 1952 and won the championship in 1978/79, managed by Eddie McCluskey. In April 1990 the Isthmian league's ground grading committee deemed that Mayesbrook Park was unfit for Premier division football and as a result our last home game of the season was played at Leyton-Wingate FC.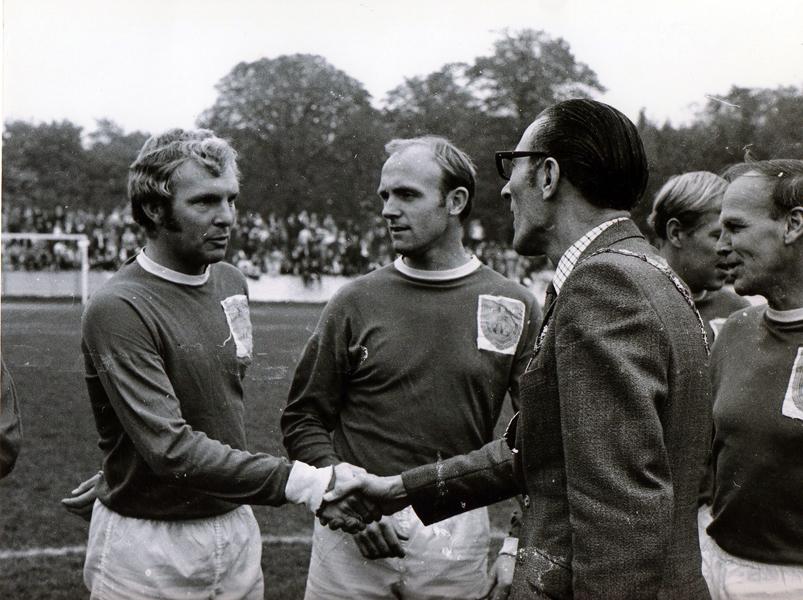 Bobby Moore played for our 'A' team before it folded and he went onto join West Ham United. This picture is from a charity game at the Vicarage Field played On Sunday October 12th 1969. Also pictured is the Mayor of Barking Cllr Vic Rusha, Don Howe and Ron Greenwood.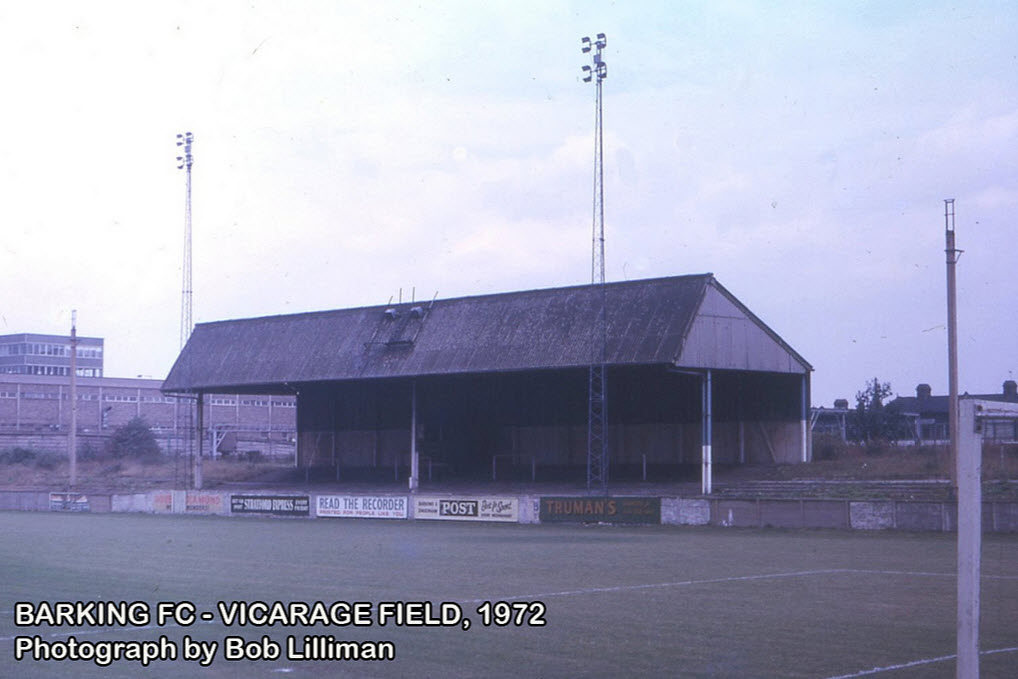 The Vicarage Field pictured the year before Barking left for Mayesbrook Park – photo by Bob Lilliman
On June 19th at the league's AGM, there was a vote whether or not to relegate Barking: the voting went 16 for and 24 against with the remaining clubs abstaining. However, this was a temporary reprieve as in the next season after 39 years at Premier Division level, the club suffered the first relegation in its history.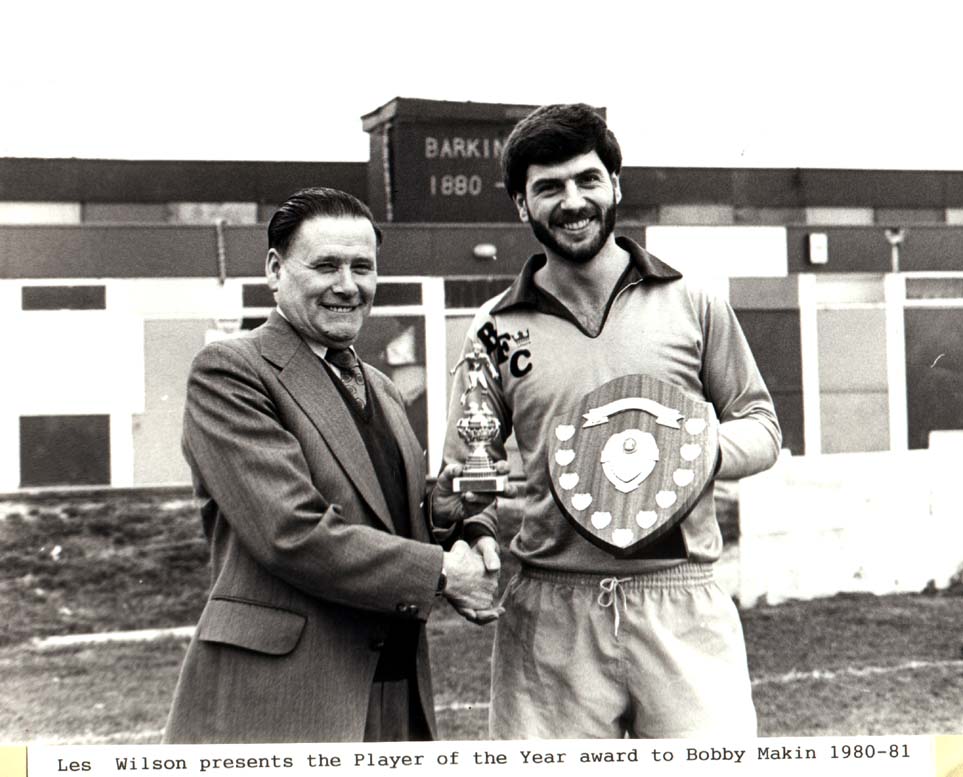 Bobby Makin – seen here receiving the supporter's player of the year trophy for 1980/81 is our record appearance holder with 569 senior appearances for Barking FC
In 1993 there was a close shave with relegation to Division 2 when on the last day of the season needing a win against Boreham Wood, substitute Lee Parish scored a 93rd minute goal to save Barking and relegate Lewes instead. Again, this was only a temporary stay of execution and in 1996 relegation to Division 2. Promotion back to Division 1 was won in 2000/01 under the management of Craig Edwards, Paul Downes and Alan Marson. Following restructuring, Barking played in the Southern League Division 1 East in 2004/05 and 2005/06, reaching the play offs in both seasons. In 2007, following the tragic death of chairman Peter Webster (in late 2004) and the subsequent liquidation of the parent company, the club was transferred to the Essex Senior League.
We have links with both the Olympic Games and the World Cup. The 1900 Olympic gold medal winning Great Britain football team (actually Upton Park FC), included former Barking Woodville players William Quash and Alf Chalk. In 1936, a year prior to joining Barking Bertram, Arthur Clements then playing for Casuals represented Great Britain at the summer Olympics. Clements also played for us post World War 2. Peter Deadman was a regular member of the Great Britain Olympic football team in the 1960s and our 2002/03 first team included Rene Regis who captained and scored the winner for St Lucia in the 2002 World Cup qualifiers against Suriname on March 5th 2000.
Our most famous ex player is of course Bobby Moore, the West Ham United and World Cup winning England captain. He never played for our first team but research supported by the memories of our late president, Ron Debenham, has indicated that he played for our A (third/youth) team before being signed by West ham at a young age. The programme for a charity match in 1969 played at the Vicarage Field states Bobby "decided to play on the pitch where he had previously appeared as a member of Barking's 'A' team". This was corroborated in 2015 by former Barking player Alan Batten, who played alongside Bobby in our A team in 1954/55 which was subsequently wound up and Bobby moved on to West Ham United. Bobby's parents had been active members of Barking FC Supporters' Club and organised the transport, comprising fleets of coaches and even a special train to away matches.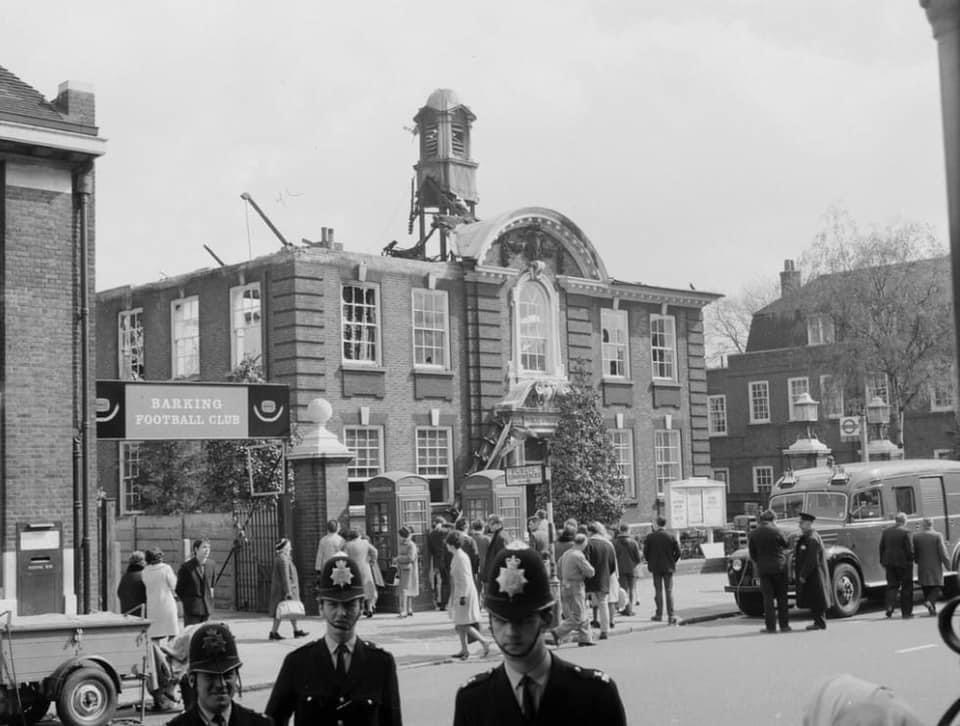 Another very famous name associated with our club is Sir Alf Ramsey, who led England to our World Cup success in 1966. In the 1950s, while still playing for Tottenham Hotspur, Alf coached our first team. This was his first managerial experience. Another player to reach the highest level in business is David Gold, currently co-Chairman of West Ham United FC while John Still, successful manager of Barnet, Peterborough, Luton Town, Dagenham & Redbridge and now back at Barnet also played for us as a young man, and was one of our youngest ever senior players at the age of 16.
Among the club records is an unbeaten run of 17 games in 1968/69. The club record run of unbeaten league games is 23 set by the reserves in 2011/12 which comprised the whole league season and one game from the next.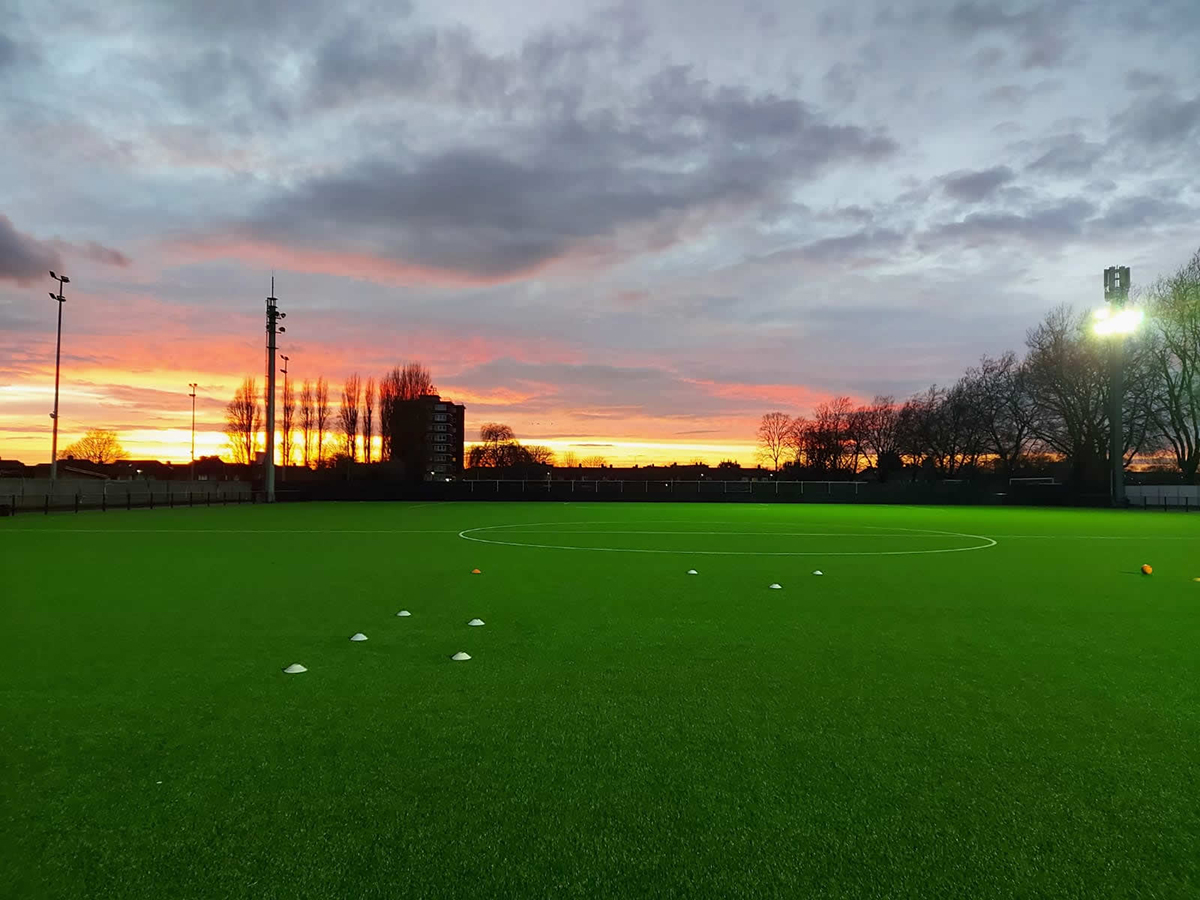 In the summer of 2020 a new 3G pitch was laid significantly upgrading the facilities and opportunities for the club. Photo by Justin Gardner